Your Fairfax Plumbing Company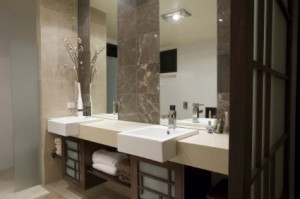 At Hicks Plumbing Service, we know how important your plumbing system is to your home and your family. It's one of the biggest sources of comfort you have in your home—and when there's even a small problem with your plumbing, it can be a huge source of discomfort and frustration. So our Fairfax plumbers will work hard to make sure that your home's plumbing is always in the best condition possible. We've been serving the Fairfax area for more than 12 years, and we've developed a reputation in that time as the most trusted and reliable plumber in the area. We always provide the best possible workmanship and professional customer service, and we strive for 100% customer satisfaction.
All of our Fairfax plumbers are licensed, certified, and professionally trained. So when you hire us, you're guaranteed to be working with a professional that you can trust to get the job done right. Whether you just have an irritating leaking faucet you need in-depth piping repairs, our professionals will be ready and eager to tackle the job. No matter how large or small the job is, we'll make sure you get the best plumbing services there are.
Give us a call today to ask any questions you have about the services we provide, or to schedule your appointment, and we'll be looking forward to assisting you.
Fairfax Water Heaters
Your water heater is nearly constantly under a good deal of stress. So problems can occur with it any time. And when they do, it's important that they're taken care of as quickly as possible. Any problems that are left untreated will cause more problems or get much larger. Our Fairfax plumbers recommend having a tune-up of your water heater at least once a year to help catch problems as soon as they begin to develop. Water heater tune-ups will also ensure that your water heater runs as efficiently as possible, which will help save you money on your energy costs, and will increase the lifespan of your water heater. And when you do any repairs for your water heater, our professionals will be ready to make sure it's the best condition possible.
Fairfax Drain Cleaning
When you have clogged or dirty drains, they can cause problems with your plumbing throughout your home. Your entire plumbing system is connected, and your drains are the point of connection. Often, problems that seem to be occurring with a single plumbing fixture have their root causes in your drains. Some plumbers may only address the most obvious problem and then be done with their work. But our Fairfax plumbers will make sure that our repairs are completely thorough. We'll recognize it if a problem is being caused by dirty or clogged drains, and we can give your entire drain system a thorough cleaning to enhance the performance of your entire plumbing system.
What Fairfax Homeowners Are Saying About Us
---
Hick's works overtime

Thanks to the Sewer Line coverage through Dominion Power, we were assigned to Hicks Plumbing. Although our call went into them in the late morning, they were out to the house later that same day to at least determine the cause of our trouble. Mr Hicks himself came out to the house and scoped the p [...]

---



Recent Articles
Estimating The Size Of A Hot Water Heater Tank In Fairfax, VA

If you've decided that it is best for your household to use a storage tank style water heater (most traditional type), it is then time to determine what size of unit you will need. You want to make sure the storage and heating capability of the unit will produce enough hot water for your household...

Read More
5 Signs Your Water Heater Needs to be Repaired or Replaced

As a homeowner, you know how frustrating, disruptive, and inconvenient it can be for one of your major appliances to stop working. It can be especially upsetting to come home after a long day, hoping to enjoy a hot shower, only to discover your water heater has stopped working. A broken water heater can interrupt...

Read More
If you are looking for a Fairfax Plumbing Company then please call 703-803-7466 or complete our online request form.