Clogged Drains In Fairfax, VA – Are You Throwing Your Money Down The Drain?
You could be throwing your money down the drain and not even realize it. The most common plumbing issue is clogged drains, and it's not a surprise for professional plumbers.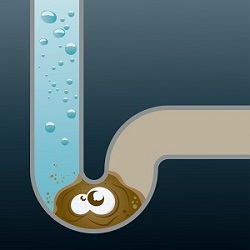 You could not possibly imagine all the things we have found in people's pipes that were disposed of through their plumbing system. Most of the things that create clogs should never be put down the drain.
Your plumbing system in your home is already at risk of clogging with the disposal of normal wastewater, toilet paper, and normal biological wastes.
Putting other objects in the drainage system only adds to the normal buildups of hair, scaling from hard water mineral deposits, and undissolved emollients or body oils.
People tend to put things down the drain and think they will just flow or flush away, not realizing that all or some of it will get stuck in the drain trap or elsewhere in the sewage system.
One of the most serious issues we find is when there is a presence of black mold or mildews that can make the drain toxic. There are grave health dangers in your home when molds and bacteria are present.
Toxic Clogged Drains, A Serious Health Hazard
If you notice any type of foul smell coming from your drain, you have some bad things going on down there. It is most likely coming from a drain in your kitchen or bathroom.
If you smell something bad, your drain needs to be cleaned as soon as possible because that means you have rot going on and there could be black mold down in the drain growing along with the mildew and rotting materials. The mold could lead into your appliances such as your dishwasher or washing machine.
Remember, your plumbing drains are all connected to one system, and when one is growing bad things that can harm your health, your whole drainage system could back up and flow back into your home.
Some of the common things people tend to put down their drains that they never should are:
Grease or other oils
Paper that will not dissolve properly
Trash
Food
Medications or Drugs
Drug Paraphernalia
Condoms or Feminine Hygiene products
Pets. Even piranhas and snakes, alligators, hamsters, gerbils, etc.
Diapers
Body parts. Even fingers or hands
Cotton buds or Q-Tips
Paint
Construction Wastes
Your drain may either suddenly clog or will clog over time. Either way, what you put down your drain will make a huge difference in how often and when you will need to call in a plumber to unclog your drain.
Instead of paying a plumber to remove your clog, it's best to just not put things down a drain that don't belong. Even if you have a food disposal in your kitchen sink, you should never put certain things down the drain.
At Hicks Plumbing Service, our professional plumbers are available for any plumbing emergency you may have including clogged drain pipes. We are your trusted, local plumbers here in Fairfax County and surrounding areas.
Just give us a call at any time and we will respond with prompt, professional service!
If you need a professional plumber in Fairfax, please call Hicks Plumbing Service at 703-803-7466 or fill out our online request form.