Fairfax Plumbing Repairs: Why is My Faucet Dripping?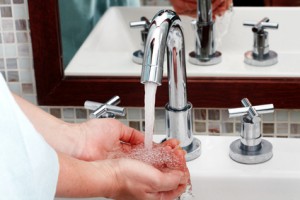 A faucet could be dripping for a number of different reasons. Your faucet could be leaking because of corrosion, defective gaskets, or mineral deposits in the internal parts of your faucet. Ignoring the problem can turn what would have been a simple repair into a large and expensive plumbing project. So it's important to take care care of a leaking faucet as soon as possible. Fortunately, if you can catch the faucet repairs early enough, they're likely to be simple enough to be taken care of without a Fairfax Plumbing Repairs specialist. However, if you can't solve the problem on your own, our professionals can take care of it quickly and accurately.
The Facts
According to the Environmental Protection Agency, leaky faucets can lead to 10,000 gallons of water per household being wasted each year. The most common leakage problem is homes are dripping faucets, leaking valves, and leaks in toilet flappers. But dripping faucets are by far the most prominent. The EPA estimates that having your leaking faucets repaired can save you 10% or more on your monthly water costs.
Dripping faucets waste more water than you may originally assume. And that means that they have a fairly large impact of the environment. But if you don't have your faucet taken care of by a Fairfax plumbing repair specialist, you'll also be spending more money. First, on your water bills, and then on the more in-depth repairs you'll need when you do have your faucet repaired.
What's Making Your Faucet Drip?
Your faucet could be dripping for nearly any reason, but here are a few of the more common problems that lead to a leaking faucet:
Loose Parts — Because your faucet is almost continuously in use, it's not uncommon for a few of the inner-workings to come loose over time. There are a lot of moving parts within your faucet, and if they're loose, they can cause leakage at the at the handle of the faucet. You'll need to either tighten the parts of your faucet that are loose or have them replaced.
Worn-Out Seals — Disc faucets have inlet and outlet seals that are necessary to the their proper functioning. The seals can become worn over time and sediment can build up in the assembly. This could be the cause of your leaking faucet. Our Fairfax Plumbing Repairs specialists can can clean the water sediments regularly to make sure your faucet is functioning properly. You also may need to replace your seals to ensure the proper functioning of your faucet.
Broken Plumbing — This is less common, but your faucet could be leaking because of a broken pipe or fitting. Pipes can crack, and this can often alter the water pressure of your plumbing system. If you've tried a lot of solutions on your own, you may need to contact a Fairfax Plumbing Repairs professional for an evaluation of your entire system and pipes.
If you are looking for Fairfax Plumbing Repairs then please call 703-803-7466 or complete our online request form.