Fairfax Plumbing Repairs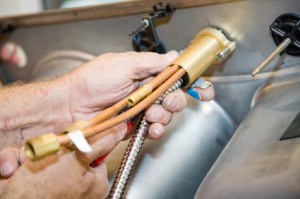 You and your family depend on your home for comfort, and plumbing is one of the biggest sources of comfort your home has. So making sure that it's in the best condition possible at all times is a necessity. When you have a problem with your plumbing, your home can easily become an uncomfortable place to spend time, and your plumbing can become a huge source of frustration. Several things could go wrong with your plumbing system at any time, but fortunately, our Fairfax Plumbers at Hicks Plumbing Service can handle any of them. And since we know how important your plumbing is to you and your family, we'll make sure you always receive the best repairs possible. We'll get the work done as quickly as possible, but we'll never sacrifice the quality of our work in order to speed it up.
Fairfax Toilet, Faucet, and Fixture Repairs
Old, worn out, or damaged plumbing fixtures can cause huge problems in your home. Your home can become a very frustrating place once any toilet, faucet, or other fixture starts to have significant problems. Our Fairfax plumbing repair technicians can make sure that every plumbing fixture in your home is kept in excellent condition. And if any fixture cannot be repaired, we can take care of its removal and the installation of a new fixture. We've made it our priority to make sure that your plumbing system is in the best shape possible, and that starts with your plumbing fixtures.
Fairfax Backflow Testing
Backflow occurs when there is a reversal of water-flow from its intended direction in a pipeline or other part of your plumbing system. If you have a problem with backflow, your drinking water can become contaminated and unusable. If this occurs in your home, our Fairfax plumbing repair technicians can repair is. We can test your system to determine whether backflow is a problem, and we can install a backflow prevention system to keep it from occurring again.
Fairfax Leak Detection
Leaks within your plumbing system can be hugely problematic, and they can also be very difficult to find. Leaks could occur in your wall, beneath your foundation, or even underground. If your water bills have been increasing, or if you've found a mysterious leak somewhere in your yard, there's a possibility that you have a serious leak somewhere in your system. And if it isn't repaired quickly, it can grow and lead to even bigger problems. Our Fairfax plumbing repair technicians won't need to break down any walls or tear up any concrete to find your leak. We won't damage your property at all when we're trying to find a lea. We use pressurization techniques, thermal imaging, and other methods to find exactly where your leak is, then we'll repair it.
Recent Articles
3 Signs You May Need a Fairfax Water Heater Replacement

Water heaters are constantly under a significant amount of pressure and stress, so they need almost constant maintenance and repairs. Our Fairfax water heater technicians recommend you have a tune-up and inspection of your water heater at least once a year to keep it functioning at its best. But even if you take care of...

Read More
Red Flags for Plumbing for Springfield Home Buyers

When you are in the market for a new home there are plenty of things you have to take into consideration and be on the lookout for, this includes the Fairflax plumbing. Obviously, a reputable home inspector should be able to alert you to any red flags in a home but it doesn't hurt to...

Read More
If you are looking for Fairfax Plumbing Repairs then please call 703-803-7466 or complete our online request form.