Sewer Line Repairs in Fairfax, VA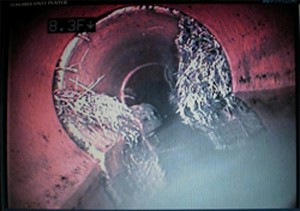 Your Sewage Lines are one part of your home that you don't want to have problems with. When you have a problem with your sewage, you'll quickly notice problems with your drains, your toilets, and any other plumbing fixtures. The back-ups and build-ups will work their way from your sewage into the rest of your plumbing, and that's not a problem that anyone enjoys dealing with.
At Hicks Plumbing Service in Fairfax, VA, our experienced plumbers can make sure that your sewer lines are free of any blockage or other problems that can lead to serious malfunctions. Whether tree roots have grown through your sewer lines, your sewer lines have been broken, or there are any problems causing clogs or lack of flow, we'll be ready to find and solve the problem, saving you hassle and costly damage later on.
What is a Sewer Line?
Sewer lines comprise both sanitary sewer systems and stormwater systems, with the former carrying wastewater to a treatment plant and the latter carrying rainwater and runoff to an open body of water. In your home, the sewer line connects to the city's system to carry wastewater from your home to a treatment plant to clean contaminants out of the water. An issue with your sewer line can lead to problems with your entire plumbing system, causing headaches and potential water damage from breaks or overflows.
Signs You Need Sewage Line Repairs
One of the most noticeable signs you have an issue with your sewer line is a sewage backup. If you notice bubbling or gurgling in your toilets, slow draining of water, or backups into showers and bathtubs, you should call a professional plumber to examine the issue. The lingering water in your sewer line can also lead to a foul odor in your home, often akin to rotting eggs, or it can build up in your yard. If you notice standing water or overgrown patches of grass in your yard, it could indicate a sewer line break is leaking into the soil. If you notice any of these signs in your home, you should call an experienced plumber immediately to assess the situation and help prevent the problem from compounding.
Fairfax Trenchless Sewer Repair and Video Inspection
Sometimes a sewer line problem can be repaired with a simple drain cleaning, but often the problem stems from more severe damage, like cracks, tree root intrusion or collapse of the pipe. Our experienced Fairfax plumbers can conduct a video inspection to help easily identify exactly where the problem is stemming from and what the proper solution is. Once the proper solution is determined, we'll talk you through the options and provide an estimate up front.
Traditional methods of sewer line repairs can be very disruptive to your landscape, displacing parts of your yard or garden, and often destroying parts of your landscaping. They may even force you to dig up parts of your driveway or garage. But when you need in-depth Fairfax sewer line repairs, our trenchless sewer repair methods can keep you from needing to dig out your sewer line in order to fix it. Many homeowners aren't aware of "no dig" technology, but we'll make sure you are before we do any repairs to your sewer line.
Fairfax Sewer Line and Plumbing Professionals
When you have a problem with your sewer lines, it's important to always make sure you hire a professional that you know you can trust with the job. The consequences of any faulty work with your sewage line are too drastic for you to attempt the job on your own, or to hire someone without adequate professional experience. Hicks Plumbing Service has been serving Fairfax and the surrounding areas for more than 12 years, and we have a strong commitment to quality workmanship and customer satisfaction. Our Fairfax sewer line professionals work to give you the best customer service and most professional workmanship possible at every job we take. They are licensed and certified, extensively experienced, and professionally trained. So when you need Fairfax sewer line repairs, you can count on Hicks Plumbing Service to get the job done right.
Recent Articles
Estimating The Size Of A Hot Water Heater Tank In Fairfax, VA

If you've decided that it is best for your household to use a storage tank style water heater (most traditional type), it is then time to determine what size of unit you will need. You want to make sure the storage and heating capability of the unit will produce enough hot water for your household...

Read More
If you are looking for Fairfax Sewer Line Repair then please call 703-803-7466 or complete our online request form.