Protect Your Basement From Flooding in Fairfax With Sump Pumps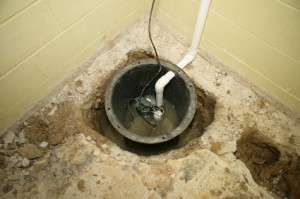 Your Sump Pump is a very important part of the protection your home needs from heavy rains and moisture damage. It protects your basement from flooding, which can be a serious problem. A flooded or even just wet basement is more than just an inconvenience. Often, this moisture damage can lead to mold growth, mildew, a deterioration of your home's structure, and your basement can become a perfect environment for pests. Fairfax sump pumps are a great way to prevent your basement from sustaining any damages due to excess moisture. They're designed to collect any excess water and pump it away from your home, before it has a chance to settle in your basement. However, they aren't always perfect.
Fairfax sump pumps can fail to do their job properly if any problems occur with them. And it's extremely frustrating to believe you have a system in place for a situation, only to have it fail and have your home sustain damages anyway. Our professional plumbers can help you make sure that your sump pump doesn't have any problems, and that your home is perfectly protected in the event of heavy rain fall. We can make sure that your sump pump is properly installed, and our Fairfax Plumbers at Hicks Plumbing Service can inspect your sump pump to make sure that no problems are looming that will lead to its failure.
Fairfax Sump Pump Troubleshooting
There are several things that could go wrong with your sump pump, and our Fairfax sump pump professionals can help you find those problems and their best solution. The most common problems that occur with sump pumps are:
Your sump pump doesn't have enough power. Sometimes, and especially if you've opted for a cheaper model, your Fairfax sump pump simply may not be able to handle the amount of rain that's coming down. If the volume of water is too large, it can cause your sump pump to short out, or stop working at all. And even if that doesn't happen, the sump pump may still let a good amount of water into your basement. You may need an extra sump pump installed in case of such a situation, or you may need a new, higher powered sump pump.
Your sump pump becomes clogged. A clog in your sump pump system could occur at any time, and they can occur frequently. Dirt and debris can build up in the system, preventing water from coming into the machine. And its discharge lines may also become clogged, so the pumping the water out and away from your home becomes difficult. Our Fairfax sump pump professionals can locate any clogs and clean them thoroughly.
A loss of power may occur. This is the simplest problem to fix, and probably the first possibility you should consider. Your sump pump may come unplugged during a storm, or you may simply need to reset a circuit breaker. If the problem is persistent, our Fairfax sump pump repair specialists can help you find a solution.
Fairfax Sump Pump Installation
If your sump pump isn't installed correctly, it won't be able to do its job, even when it's in perfect working order. Often, during a DIY installation of a sump pump, homeowners miss important details and won't, for instance, correctly link the pump to the drainage system. So it may appear that your sump pump isn't working properly, when in fact there's simply a problem with your installation. Our Fairfax sump pump technicians can make sure your pump is perfectly installed and working as efficiently as possible.
Recent Articles
Red Flags for Plumbing for Springfield Home Buyers

When you are in the market for a new home there are plenty of things you have to take into consideration and be on the lookout for, this includes the Fairflax plumbing. Obviously, a reputable home inspector should be able to alert you to any red flags in a home but it doesn't hurt to...

Read More
Estimating The Size Of A Hot Water Heater Tank In Fairfax, VA

If you've decided that it is best for your household to use a storage tank style water heater (most traditional type), it is then time to determine what size of unit you will need. You want to make sure the storage and heating capability of the unit will produce enough hot water for your household...

Read More
If you are looking for Fairfax Sump Pumps then please call 703-803-7466 or complete our online request form.