Fairfax Drain Cleaning: How to Tell if Your Drains are Clogged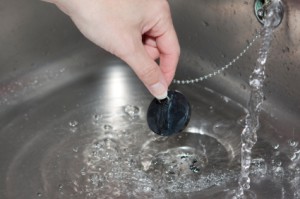 When your drains or pipes become blocked or clogged in any way, you'll see problems develop throughout your entire plumbing system. Most likely, you need a professional Fairfax drain cleaning technician to take care of the problem, and sometimes you may need to have your pipes replaced altogether. Any time you're planning on any renovations that involve your plumbing system, you'll want to make sure that your drains and pipes are in excellent condition beforehand. If you're installing new flooring, cabinetry, or plumbing fixtures in a bathroom or kitchen, you'll most likely want to replace the pipes beforehand.
Of course, before you're able to have a Fairfax drain cleaning performed, you'll need to be able to identify the problem. Here are some of the signs that can point to dirty or clogged drains:
Poor Water Flow
Often mistaken by homeowners as "low water pressure," poor water flow is a key sign that there's something wrong with your drains. Dirty or clogged drains will keep water from flowing as smoothly as it should, which will look a lot like low water pressure. However, your water pressure should be the same throughout your home, and in any other homes in your area. If one room has better water flow than another, or if a neighbor's home has better water flow than your own, then you most likely have a problem with your Fairfax drains.
Our Fairfax drain cleaning professionals can help you determine exactly what the problem is. Most of the time, a thorough drain cleaning will eradicate any problems. However, if your pipes need to be repaired or replaced, we'll find that out and discuss the best way to move forward.
Plumbing Fixture Complications
Regardless of the water pressure in your home, if dirty or clogged drains are restricting water flow, you'll notice problems with your plumbing fixtures. Whirlpool tubs, showers, and toilets will all have difficulty functioning properly or efficiently is your water flow is obstructed. If you notice malfunctioning fixtures, you may need a Fairfax drain cleaning performed. Any plumber called in to repair your plumbing should be able to recognize if the root cause is a problem with your drains. However, less experienced or dedicated plumbers may simply work on the surface problems and not consider their cause. Our plumbers will be sure to be thorough with all repairs, and we can alert you to any drain problems when we're repairing your fixtures.
Before you install any new plumbing fixtures, it's important that your Fairfax drains are in the best condition possible. Our experts can inspect your plumbing system and make sure that you won't be compromising the quality of your plumbing fixtures.
If you are looking for Fairfax Drain Cleaning then please call 703-803-7466 or complete our online request form.