Quality Plumbers in Reston VA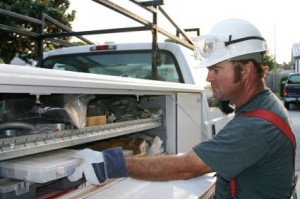 At Hicks Plumbing Service, we know just how crucial a part of your home your plumbing system is. It's a huge source of comfort, health, and safety in your home. So even a small problem with your plumbing can be hugely frustrating. Our plumbers in Reston VA understand this, so we'll always work hard to keep your plumbing system and fixtures in the best condition possible. We've been serving Reston and the surrounding areas for more than 12 years, and in that time we've earned a reputation as the most trusted a dependable plumber in the area. We strive for 100% customer satisfaction and we'll always provide you with the highest quality workmanship and most professional customer service.
Our Reston plumbers are licensed, professionally trained, and highly experienced. So when you hire us, we can guarantee that you'll be receiving services from a professional you can trust with the job. No matter how small or large the job is, we'll get it done with the same amount of dedication to quality work. And if you ever need emergency plumbing repairs, our professionals are just a call away 24/7.
Call our plumbers in Reston VA today to ask any questions you have about the services we provide, or to schedule your appointment, and we'll be looking forward to assisting you.
Reston Water Heaters
Your water heater is nearly constantly under a good deal of stress. So problems can occur with it any time. And when they do, it's important that they're taken care of as quickly as possible. Any problems that are left untreated will cause more problems or get much larger. Our Reston plumbers recommend having a tune-up of your water heater at least once a year to help catch problems as soon as they begin to develop. Water heater tune-ups can also increase the lifespan of water heaters, and lower your energy costs by ensuring your water heater is as efficient as possible. And any time you need repairs, a replacement, or an installation for your water heater, our professionals can help.
Reston Drain Cleaning
Clogged drains can be a huge problem for your home, and you may not even know it. When drains are dirty or clogged, your entire plumbing system and its fixtures will function less efficiently. Drain cleanings will help make sure that your plumbing system and plumbing fixtures are as efficient and functional as possible. Often, a problem with your drains may appear to be only a problem with single plumbing fixture. And a less experienced plumber will take care of that surface problem and leave your drains untreated. So you'll see the problem crop back up again and again, getting worse each time. Our Reston plumbers will make sure all plumbing repairs are completely accurate and thorough. We'll recognize if the problem is with your drains, and we'll give you a full drain cleaning so that your plumbing system is able to function at its best.
What Reston Homeowners Are Saying About Us
---
Great Company

What can I say, great company- timely, professional, knowledgeable, and took the time to explain things. Gary was extremely helpful and even took the time to remind me to shut off and winterize my exterior faucets. I will definitely call Hicks for any/all future service needs. Thanks!!
Unusual Plumbing situation

I had a very uncommon situation in my home recently which resulted in an infestation of a type of fruit fly. This was not an issue the pesticide company could address rather it required a specialized plumber. Mr. Hicks was familiar with this issue and by utilizing his highly specialized equipment [...]

---



Recent Articles
3 Signs You May Need a Fairfax Water Heater Replacement

Water heaters are constantly under a significant amount of pressure and stress, so they need almost constant maintenance and repairs. Our Fairfax water heater technicians recommend you have a tune-up and inspection of your water heater at least once a year to keep it functioning at its best. But even if you take care of...

Read More
Why Professional Drain Cleaning is Better than Store-Bought Solutions

Each and every day, you and your Fairfax family rely on your plumbing system for some of your most important tasks. Unfortunately, with all that use, you will eventually encounter a clogged drain somewhere in your home. Ignoring a drain clog can be an immense inconvenience. Using your plumbing fixtures and appliances can...

Read More
If you are looking for a Reston Plumbing Company then please call 703-803-7466 or complete our online request form.